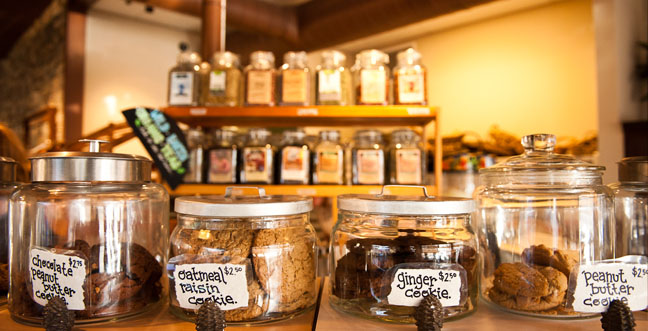 We've been around for awhile and we've seen a lot over the years.
The world keeps changing, but Wild Earth keeps baking.
A Fresh Beginning…
Owner & Operator Melinda Admiraal from Passionate Hospitality Group took over ownership of Wild Earth Bakery in May 2020 during unprecedented times. Being invested in a vibrant community is important to both her and the ownership group in order to ensure that community gathering places like the bakery, restaurant, and Enjoy Centre remain fixtures in the communities that they are apart of.
Melinda welcomes you back to Wild Earth Bakery and looks forward to growing with you the customer and St Albert as a whole.
Proud member of the
St Albert Chamber
of Commerce

Back in 1932
The bakery originated in 1932 when Tubby Bateman opened up a small butcher shop next to the neighbourhood Red & White grocery store In Mill Creek Edmonton, Alberta. It started off as a small simple affair, heck with only 500 square feet it had to be!
Tubby buys the grocery next door in 1948
Tubby continued to grow his business, and eventually, in 1948, he purchased the Red & White grocery store. Over time the space would undergo a series of renovations and transformations. Milk Bar, pharmacy, rumpus room, you name and the building had it! Tubby was onto one thing, the neighbourhood needed a hub, a bustling place for the fine folks of Strathcona and Millcreek to gather.
All in the family in 2005
Throughout the years, tenants would come and go, but the Batemans remained connected to the shop and the Strathcona 'hood. In 2002, Dee Bateman opened up a Booster Juice in the very spot where her grandfather launched the whole Bateman shebang. In 2005, Dee's sister Joanne purchased the space, along with the adjoining Bateman's IGA, and turned it into Wild Earth. The space was once again renovated and out of the drywall rubble, a bakery was born.
Changes and moves in 2014
With the neighbourhood undergoing substantial changes and a revitalization, it came time to move the bakery to a new location. With the beautiful message that the Enjoy Centre in St Albert stood for, along with its own history, it was the perfect spot for our new home.
Reopening in 2020
A pandemic swept the globe and times were uncertain. Once deemed safe for the employees and the public, Wild Earth Bakery reopened under new ownership in May 2020. We look forward to serving you and our community again. Thank you for your support!